The PRECIBOT is a mini high-precision 3-axis or 5-axis (with additionnal 2 axes mini tilt tables) machining center carried by the robot. Compact design in aluminium and carbon low weight for 120 mm strokes.
Below, you can listen to the explanations of Alain Auffret, technical director of the PRACARTIS group.
The great dynamics of its 3 linear axes and the 6 axes of the robot are controlled by a digital control. The PRECIBOT is intended to perform precision machining on complex parts with a robot for a quality equivalent to the more expensive machine tool. It is transportable and there is a version for repairing large parts, for example aircraft on the tarmac.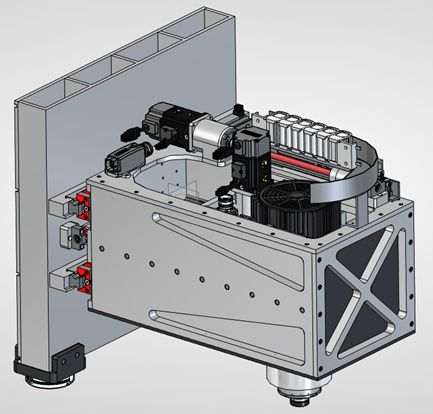 The PRECIBOT is a very high precision machining center with very low energu consumption (divided by 10 compared to a standard machining center) and multiple applications, in particular as a small production chain. 3-axis CNC Desktop Factories, making it possible to produce near places of consumption and including in the heart of cities. A unique approach towards the 4.0 industry and in particular Green Machining.
This product is part of the FUI (Haute-Savoie) research program called ACROBOT (partners Precise France, Créneau Industriel, ENSAM, Carbilly, CETIM, Stäubli, Siemens).